South of the Border, continued
So, during my first stop through South of Border this summer, I didn't actually get out of the car.  I was heading to Fayetteville after staying at a Sleep Inn just south of AtlantaGeorgia.  I needed to arrive at the camp for some meetings and to get settled in at about3pm, so my arrival at South of the Border at shortly after lunchtime meant that I wouldn't be able to really explore.
I have stopped there several times in the past, and it appeared that not much had changed.  I snapped several photos from inside the car.  Luckily for me, South of the Border is synonymous with "concrete" and every inch of the place is paved.  It's actually a little sad that the lush landscape of the Carolina's wasn't showcased at least a little, but clearly South of the Border isn't about the Carolinas.  Its about selling cheap crap.   No need to pay a gardener, the guy who paints the concrete is charging enough already. The irony of building a place dedicated to Mexico that doesn't require a landscaper is not lost on me.
The skies were gray that afternoon, and the whole place seemed desolate through the bug splattered windows of my car.  The Ice Cream fiesta looked empty.  Pedro's Coffee Shop boasted "HATS from Around The World" but had only two cars in it's parking lot. The "World's 1 Miniature Golf" and "Pedro Land Park" both were void of patrons despite a giant golf ball mounted several stories high on a concrete golf tee with the words "Golf of Mexico" advertising their location within the sprawling grounds.
Several "Caution: Train Crossing" signs are posted around the property, but most of the tracks are overgrown with weeds, and laughing families are no longer transported from the arcade to the motel playground.  After all, the playground is abandoned as well.  I did see a teenage engineer roll on by on one of the tracks in another part of the compound, but his main passenger car was several blocks away, unhitched and sitting alone on some raised tracks near an unkempt parking lot near the highway.
As the minutes wore on, I drove up and down the catacombs of interconnected parking lots.  There are a lot of buildings.  The only outside business, (even the gas station is part of the Pedro empire) within the property is the First Citizens Bank.  Wise is the man who made it impossible for anyone to not have quick access to cash at what should be honored as the World's Largest Giftshop.
Las Vegas claims to hold the title to the official World's Largest Giftshop, but this is self proclaimed and clearly is not even in the running when compared to the sheer volume of buildings at South of the Border.  Square footage be damned, we are talking about acres here.
Considering the current political debate about immigration from south of our nation's actual border, one might be tempted to crack a smile at the giant concrete statue of Pedro welcoming patrons at the "First Citizen's" National Bank.
One week later I returned to South of the Border during my 18 hour drive back to Texas. This time I was dedicating an hour.  I was determined to buy some crap and see the interior of as many of these buildings as I could.
I can't begin to describe how desolate this monstrosity is.  I was even a little conflicted.  I wanted this awful place of cheap commerce to succeed.   Every building is a gift shop with a slightly different theme.  But each building contained at least 40% of the same crap as the next one.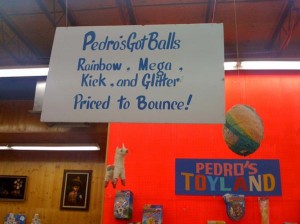 To lift my spirits and give myself a task to psychologically aid my wanderings, I sought out a Flattened Penny Machine.  Ever since 2002 when I purchased my first Penny Passport I have desired to flatten a penny in commemoration of every tourist trap I visit.
I remember that day well.  Billy and Jesse and I were hired to teach puppetry in Hawaii that year.  All expenses paid.  During the several days off we had, we went to various kitschy places along the inappropriately named "interstate" highway.  Notably, we went to the Dole Plantation and spent the early afternoon trying to escape from "The Worlds Largest Maze".  Billy and Jesse, two of the best travelling partners I have ever had the pleasure of working with, made it out in record time.  I never made it out, fairly, finally opting to squeeze through the fence rather than retrace my frustrated steps for untold more hours.
To ease the agony of defeat, I traded my mental agony for actual pain and purchased everything offered at the gift shop restaurant.  You see, this was the Dole Pineapple Plantation and I they served buttloads of pineapple delights.  We ate chocolate covered pineapple, with pineapple muffins, pineapple cotton candy, pineapple chili, and pineapple relish on a burger, with a side of pineapple, and chased it down with pineapple juice.  I think I am forgetting something else made from pineapple.  We grabbed some pineapple taffy to go, and collectively hated ourselves for the rest of the afternoon.
Just before closing, in the cool of the late afternoon we arrived at the Waimea Valley, which brochures boasted to be home of Waimea Falls Park.  A little tourist locale that would amuse and delight families with its historic reproductions of Hawaiian life and Hawaiian themed fun and games.
The second best monotone scripted line I have ever heard was uttered at this place. Upon our completion of some vaguely lawn dart slash arrow shooting sort of "traditional" "game" that we played at the behest of a badly costumed twenty something Hawaiian man, he turned away from us and as he turned, and without a spec of sincerity, managed to perfectly monotone the phrase "Mahalo for playing."
I was so inspired by this, that I not only purchased my first flattened penny of my adult life, I bought a penny passport which holds 36 flattened pennies.  It's 2008, and sadly, I still have two more slots open.
As I wandered out of a gift shop, satisfied that I found a flattened penny machine, I headed towards the hotel.  I had already seen two buildings across the street that used to house guests, but was clearly abandoned at this point.  However, the lobby looked alive and in working order, so despite the parking lot being empty, I headed over to the glass doors with some confidence.  I walked inside and smelled the musty smell of a lobby that is too easily accessible from the pool area, and has been for decades.  I have to admit that I enjoy that stale smell.  I liked the wood paneling.  I liked the shape of the front desk. I liked that when I inquired about room rates, I was asked, with sincerity, if I was looking for a room "with cable or without?"
This is the America that I haven't spent enough time in.  The aged motor inn. Magic fingers anyone?
Too many of us road warriors have been spending too much time in the low budget offerings of the Hilton, Wyndam, or Choice Hotel chains.  I really shouldn't digress again, but I think the desire to hit the road is severely diminished by overwhelming 'sameness' that has grown up around all of the exit ramps on our interstates.
I grabbed a map and a brochure from the desk clerk and made my way back out into the concrete Mexican concrete village.  Cable was $10 extra.

Every building is spacious inside.  Even the "pharmacy" sells tourist trap memorabilia, and dedicates a single 20 foot wide sales rack to feminine hygiene products (3 shelves) and South of the Border place mats and coasters. (2 shelves)

The Africa Shop had gift items from Africa, and showcased cement safari animals outside it's doors.  Another gift shop attached to the El Toro arcade had various "humorous" signs hanging from the ceiling, making puns on famous brand names and shopping districts throughout the world of fashion and design, in addition to some non-sequitor that might possibly manage to amuse exactly zero visitors.

I bought an ashtray.  I picked up some postcards for .05 cents.  I grabbed an over-sized coffee mug as well.  I walked into just about every building during my slow saunter that afternoon, and after about an hour I just got weary and gave up.

I never even found the entrance to the Dirty Old Man shop, which I desperately wanted a photo of.  But, geez, it had been over an hour and I suffered from the fatigue of sad gift shopping.  I was done, and I never even set foot in Fort Pedro or Rocket City.
So I hit the road, back to Texas.
Between my two trips to South of the Border, however, I managed to stop at one of my favorite little finds of all my travels so far.  In the quaint little town of Southern Pines, North Carolina…